Author Interview
Live Author Interviews and Questions for Authors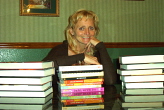 Author Interview Information
Author Interviews will take place Live, in D's Bistro Author Interview FREE. You are invited! You will be able to chat with the author, ask interview questions and even get hints about their next book, if any. An author interview will usually last between 45 minutes to 1 hour or more, depending on the author. The Women's Self-esteem chat room (D's Bistro) will currently hold 25 people for the chat. We Never know how many people will show up. There may be only 2 people or up to 25. First come, first served, and there are no reservations accept for the author being interviewed and Dorothy, the main interviewer. That leaves room for 23 more! So, if you want a chance to ask a few interview questions and watch the live author interview, you might want to come to D's Bistro just a little early to get a seat! Mark your calendar, this is going to be fun! We will generally try to schedule the Live Author Interviews for Sunday evenings and advertise for a couple of weeks before the interview.
Note to Authors- The purpose of the author interview is to gain exposure to your book and to give readers a small glimpse of who the author really is. There may not be many people that watch the live interview, but there are many that will read the interview at a later time. All of our author interviews are recorded specifically for that purpose. It will be posted with your book review and everyone will have access to it at any time, including you. You will gain world wide internet exposure!
Are you and Author? Click Here to Get Your Book Reviewed!
Authors, Click Here for an Author Interview!