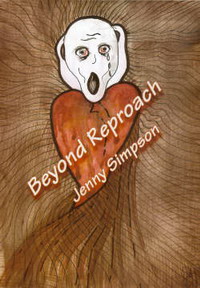 About the Author:

Jenny Simpson has writtten this book in hopes of helping all of those who have or still are suffering from domestic violence. She is you..she feels your pain. She has been where you are and she has risen above it and chose to move forward with her life. In her words..."If you don't break the patterns of abuse...you are the perpetual victim".

About the Book:
Domestic Abuse:

It is an abuse that takes place in a relationship.

It is a relationship of control and trauma.

It is an abuse that can be so well disguised and misunderstood.

It is an abuse that is cunning, controlling, secretive and in many cases ignored or denied.

What feeds Domestic Abuse:

A persons need or desperation to be loved and/or accepted.

Financial security.

The fear of losing ones children.

The fear of having to move forward and take your life back.

Beyond Reproach is a story of a woman who survive not only one but two abusive relationships. Through her experience she shares her insights in hopes to awaken your most inner strength so that you can identify whether or not you are a victim of domestic abuse and take back control of your life.
Womensselfesteem.com highly reccomends, 'Beyond Reproach' as a vital self-help book for any person experiencing domestic viloence/abuse. This book is well penned and set up as a guide/workbook to help you identify and understand your situation. Using strategical steps this book will support and strengthen your will to chose to move forward. You will learn how to stop allowing the abuse, only you can do this. An abuser will only abuse because they can!

DorothyL /09
Other Book Reviews by WomensSelfesteem.com