Author Interview Request
Request an Author Interview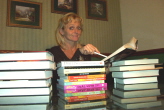 Author Interview Request: Please use the form below to request an Author Interview. WomensSelfesteem.com MUST have a signed copy of your book (or already requested a book review) to request an Author Interview. Author interviews are normaly done for authors that have already had their book(s) reviewed by WomensSelfesteem.com. If interested in having your book reviewed, please go to the Book Review Request Page.
Note to Authors- The purpose of the author interview is to gain exposure to your book and to give readers a small glimpse of who the author really is. There may not be many people that watch the live interview, but there are many that will read the interview at a later time. All of our author interviews are recorded specifically for that purpose. It will be posted with your book review and everyone will have access to it at any time, including you. You will gain world wide internet exposure!
Author Interview Request Form
Note: Not all author interview requests are granted. We may or may not contact you.
..Donation`s are appreciated..
Yes.. there is now a donation button in several spots around the selfesteem forum and the website.

This was not my idea...it actually came from a few of the self-esteem members as they understand the amount of time and monies that it takes to bring all of the information and self-esteem support to these pages for all of you.

The donation is set at its minimum of $1.00.
So ...do feel free to support womensselfesteem.com so that we can continue to support you!
Thank you so much in advance!
~D~
$1.00 is all it takes!