BEYOND Intellect
JOURNEY INTO THE WISDOM OF YOUR INTUITIVE MIND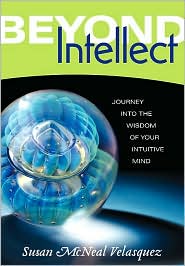 Susan McNeal Velasquez
Publisher: Row Your Boat Press
ISBN: 13:9870979641008
Pages:213
ABOUT THE AUTHOR:
Susan McNeal Velasquez has been writing and producing personal development seminars since 1972. She has started her career as the Executive of Leadership Dynamic Inc. and was instrumental in the startup of Lifespring Inc. as a Basic and Advanced Trainer. Additionally Susan as spent six years as the Executive Vice-President of the Verbal Advantage Seminars Programs. She is currently a columnist for The Laguna Beach Independent Newspaper and presents seminars and weekend retreats on the topic of how to Unleash The Power of Your Intuition.
Susan currently resides in Laguna Beach, California!
ABOUT THE BOOK:
Have you ever had to accept loss or deal with grief?
Are you aware of your LIMITATIONS?
Do you know who you are?
Are you settling for the surface or are you seeking beyond that?
Do you feel an innate need to go beyond what is considered, "The Norm"?
Do you know how to let go?
Are your emotions caught in a trap of negative thoughts?
Do you ever really listen to your inner voice?
Do you know the FOUR LIFE-CHANGING ATTITUDES?
Do you know where to find the KEY to SELF knowledge?
Do you know how to CHOOSE your BATTLES?
Do you know the meaning to running a 3 legged race with your partner when it is in regards to your intellect?
These are just some of the questions that are uncovered in the book, "BEYOND Intellect." The author opens your mind and invites you to learn how to become more in tuned with your inner self and your inner needs.
WOMENSSELFESTEEM.COM highly recommends, 'BEYOND Intellect' to any reader who dares to challenge their thoughts and levels of self-understanding and self-acceptance. This is an extremely well written resource book that will connect your heart, mind, emotions, reactions and thoughts all into one so that you may become more aware of who you really are!.................Go ahead...I challenge you to challenge yourself BEYOND Intellect!!
Reviewed by ~D~ 05/08
DorothyL@womensselfesteem.com