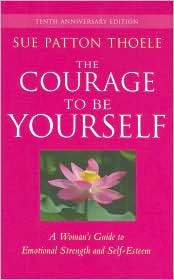 Sue Patton Thoele
ABOUT THE AUTHOR:
Sue Patton Thoele is a licensed psychotherapist for 17 years and a Hospice Chaplain with membership in the Association for Transpersonal Psychology, Sue Patton Thoele earned her M.A. in Counseling Psychology from Santa Clara University and B.A. in Drama from Kansas University. In addition to her writing and speaking career, Thoele has worked as the director of a counseling center, a retreat leader, and a high school and adult education teacher.
She is the author of nine other titles, including The Woman's Book of Courage, The Courage to Be A Stepmom,The Woman's Book of Soul, and Freedoms After 50. Her work has been translated into nine languages, including Spanish, German, Chinese, and Italian. Thoele and her husband, Gene, live in Boulder, Colorado, close to their four adult children, son-in-law and grandsons.
ABOUT THE BOOK:
"I am a worthwhile person"
"I deserve to be Loved"
"I am Lovable"
"I can do anything I set my mind to"
"I am proud to be a woman.
Sound empowering? ..it is...reading.. 'THE COURAGE TO BE YOURSELF' is exactly that.
This is an empowering and inspirational resource which will answer questions of uncertainty and erase many self-doubts.
Questions like ..
..Why do women put themselves down or consider themselves second best to others?
..Why are women so lost as to who they are and what their purpose in life really is?
..How does one connect with their spiritual self?
..Why am I emotionally dependant?
..Why do I try to be someone else in order to please others?
..Are you a prisoner of your own buried fears?
..How can you relate to others if you do not know how to relate to your own self?
Womensselfesteem.com highly recommends, 'THE COURAGE TO BE YOURSELF' as an uplifting, powerful read of inner awareness. You cannot help but feel the emotional wisdom that author Sue Patton Theole is trying to relay to you. Your knowledge of understanding your fears and self-dependance will soar after reading this very effectively written book. If you seek courage and empowerment of your inner self...look no further.. I guarantee that you will find it even more in this book.
Dorothyl 08/10