Its Not About The Food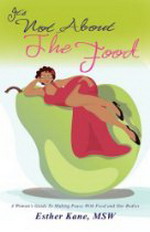 Esther Kane, MSW
About the Author: Esther Kane, MSW, RCC, has an office located in Courtenay (Comox Valley), BC. She provides therapy and counseling services for the following communities on Vancouver Island: Courtenay, Comox, Campbell River, Cumberland, Nanaimo, Parksville, Qualicum Beach, Tofino, and Port Alberni, British Columbia. She grew up the inner city of Toronto and began her work there counseling and facilitating groups for women of all ages and backgrounds who were struggling with chemical dependencies and food/body image issues. After obtaining her Bachelor of Social Work at Ryerson in 1996 at the age of 25, Esther moved to British Columbia and continued her work as a therapist. In 1998, she obtained her Masters in Social Work from UBC. Her graduating research on Jewish Women and Body Image was published in the Journal of Collaborative shortly thereafter. Included in her reach for her goals and accomplishments Esther continued in completing an intense 2-year training program in Multigenerational Family Systems Therapy at Pacific Coast Family Institute in Vancouver. On a more personnel note, Esther is fond of cooking vegan delights, practicing yoga and meditation, belly-dancing, reading and gardening. She is fortunate to have a fantastic marriage, loving and supportive family and very good friends. In Esther's words, "I have experienced several major life challenges and have come out the other side of a deeper, mature, and more loving person. I truly believe that I cannot help people unless I've done my own personal work and continue to on a daily basis. I am a living example that psychotherapy works and is an invaluable tool for human growth, healing and self-acceptance."
About the Book:
'Its Not About The Food' is, without a doubt, one of the most clearly written and effective resources on eating disorders and how they can control & destroy your self-esteem, self-respect and your entire life.
The information is not only a 100% effective, it also offers a very positive approach in overcoming and/or coping with the emotional roller-coaster of eating disorders.
Esther Kane's research and results are being shared with you through tried and true life experiences of the author herself, along with her own words of wisdom and hope.
'It's Not About Food' guides you through extremely helpful exercises which increase self-awareness as you turn each page.
Womensselfesteem.com highly recommends:
'Its Not About The Food', to anyone that is serious about reaching and maintaining a healthy and realistic weight loss goal.
This book shows promise of a free emotional and spiritual change, if you follow through with its direction and stay the course. In order to reach the positive changes, you need to take personal action towards a healthier you as Esther Kane did.
Reviewed by Dorothy L...01/09
Click Here for a video with Esther as she speaks about, 'Its Not About The Food'.
Womensselfesteem.com's book reviews of Esther Kane's other books...
What Your Mama Can't or Won't Teach You
More about Esther..