The
New Mom's Survival Guide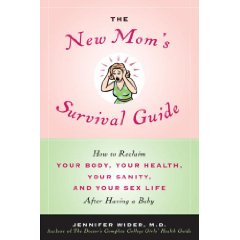 How To Reclaim... YOUR BODY, YOUR HEALTH, YOUR SANITY,
AND YOUR SEX LIFE...After Having a Baby!
JENNIFER WIDER, M.D.
ABOUT THE AUTHOR:
Jennifer Wider is a doctor, author, and radio personality who specializes in women's health issues. She is the medical advisor to the Society for Women's Health Research and hosts a weekly health segment on Sirius Satellite Radio for Cosmopolitan magazine's radio channel. Dr. Wider is on the medical advisory board for Cosmopolitan Magazine and has been frequently published in newspapers, magazines and Web sites across the country. Her first book was The Doctor's Complete College Girls' Health Guide: From Sex to Drugs to the Freshman 15. She lives with her physician husband, and their daughter and son, in Fairfield County, Connecticut!
ABOUT THE BOOK:
This is truly a Survival guide for women who have entered the very new and challenging world of childbirth and a whole new self! There is not a question or concern about the aftermath of childbirth that Jennifer Wider does not address completely and thoroughly. The information offered in this book is easy to follow, effective, up to-date, professional and accurate. The woes of breast feeding, cracked Nipples, lupus, sore vagina's, stubborn weight gain, thyroid, baby-blues, returning to sexual relations, emotional recovery, inner self-esteem, finding a balance being a mother, body image and much more are all covered in this must have resource book.
Womensselfesteem.com highly recommends: The New Mom's Survival Guide as not just a guarantee in making becoming a new mom an easier transition but as a fantastic gift for new moms & dads as well. This book is a tried and true gift of hindsight that will solve so many of those new and scary challenges all moms and dads experience once the baby has arrived. Not only will moms and dads be thankful for this gift but can you imagine how much the baby will appreciate this gift in turn. WE all know that a happy and relaxed mom also creates a happy and relaxed baby. This book offers all the advice and more that your own mothers would give!
Reviewed by: Dorothy Lafrinere - Oct 2008
Publisher: Bantam Books
ISBN: 978-0-553-80503-1
The Bantam Dell Publishing Group