Please Stop Laughing at Us....
One Survivor's Extraordinary Quest to Prevent Bullying!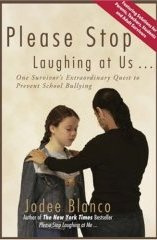 AUTHOR: Jodee Blanco
PUBLISHER: Banbella Books
ISBN: 1933771291
PAGES: 472
ABOUT THE AUTHOR:
Jodee Blanco is the author of the New York Times bestselling memoir Please Stop Laughing at Me...Jodee is also a seasoned publishing executive who has worked with New York Times bestselling authors, Academy Award-winning producers and Hall of Fame professional athletes. She teaches publishing at Ne York University and the University of Chicago. She divides her time between Manhattan, Chicago and Pennsylvania. Jodee can also claim rights to being a very dedicated youth advocate and creator and executive producer of the critically acclaimed It's NOT Just Joking Around!
ABOUT THE BOOK:
As you turn the pages of 'Please Stop Laughing at Us' you will find your thoughts taking you into your past, for some of you even a present situation. As you read Jodee's memoirs of her past life experinences of being bullied and of the scars that she was forced to live with, you will not be able to escape the feelings of her humility and her loneliness. Some of you may have been the victim, the bully/abuser or simply one of the silent witnesses who chose to stand by perhaps out of fear or ignorance. WE have all played a part in what 'Please Stop Laughing at US' will reveal.
Jodee's effective and well thought out words do not stop there, she manages to reach into the minds of the bullies and abusers, making them squirm as they find themselves identifying with certain past events that they themselves played a part in.
Through Jodee's words you will feel the suffering, confusion and loneliness of a young innocent girl from the time she became the target/victim of school bullies through to her final graduation.
'Please Stop Laughing at Us' will bring to surface the reality and facts of what a victim of bullying endures. It truly is a lifetime of nightmares and scars. You will come to understand that the myth of school bullying being only child's play is a vital deception.
Womensselfesteem.com highly recommends 'Please Stop Laughing at Us' as a very effective learning tool for all to read. It offers answers and solutions to the serious issue of bullying throughout our work places, homes, schools and in our relationships. This book reveals the true cost of bullying which in turn makes ignorance and denial a very expensive excuse. A human expense of unnecessary torture, loneliness and lifetime scarring!
Reviewed by DorothyL (May/08)
More from Jodee Blanco....
Book may be purchased @:
Visit msnbc.com for breaking news, world news, and news about the economy