What Your Mama Can't or Won't Teach You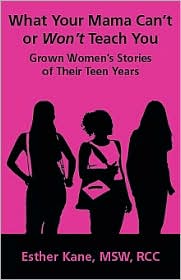 About the Author: Esther Kane, MSW, has an office located in Courtenay (Comox Valley), BC. She provides therapy and counseling services for the following communities on Vancouver Island: Courtenay, Comox, Campbell River, Cumberland, Nanaimo, Parksville, Qualicum Beach, Tofino, and Port Alberni, British Columbia. She grew up the inner city of Toronto and began her work there counseling and facilitating groups for women of all ages and backgrounds who were struggling with chemical dependencies and food/body image issues. After obtaining her Bachelor of Social Work at Ryerson in 1996 at the age of 25, Esther moved to British Columbia and continued her work as a therapist. In 1998, she obtained her Masters in Social Work from UBC. Her graduating research on Jewish Women and Body Image was published in the Journal of Collaborative shortly thereafter. Included in her reach for her goals and accomplishments Esther continued in completing an intense 2-year training program in Multigenerational Family Systems Therapy at Pacific Coast Family Institute in Vancouver. On a more personnel note, Esther is fond of cooking vegan delights, practicing yoga and meditation, belly-dancing, reading and gardening.
She is fortunate to have a fantastic marriage, loving and supportive family and very good friends. In Esther's words, "I have experienced several major life challenges and have come out the other side of a deeper, mature, and more loving person. I truly believe that I cannot help people unless I've done my own personal work and continue to on a daily basis. I am a living example that psychotherapy works and is an invaluable tool for human growth, healing and self-acceptance".

About the Book: "What Your Mama Can't or Won't Teach You",
"LETS FACE IT- being a teen can really suck", as quoted by Esther Kane, in her newest book, "What Your Mama Can't or Won't Teach You". This is one issue that you will read about in regards to what our female teens are being challenged with every day through their experiences during adolescence.
The idea of this book was generated by the similarity of results gathered from interviews and counseling sessions by the Esther through her work as a counselor.
The stories you will read are written by women of different ages, backgrounds and cultures so that the author could grasp a variety of true life experiences and views. "Adolescence sure isn't an easy ride and I am amazed that most of us survived it in one piece", again another quote from the author Esther Kane. As you read through the stories, you will find yourself relating to one or more of them. These stories share different experiences of adolescence, heartbreak through relationships, and all a variety of positives and negatives we as women experience through growing up.
"What Your Mama Can't or Won't Teach You" is a well written, easy read that will reach out to women of all ages. The information shared in these stories is meant to give what we all have wished for more than one time in our lives and that is, "HIND SITE". The type of hind site that will answer questions about your body image, choosing friends, relationships, understanding ones sexuality, dealing with peer pressure, the seriousness of an education and even how to be a good money saver.
Womensselfesteem.com highly recommends,
"What Your Mama Can't or Won't Teach You" as a very good resource for our young teen girls to use to help them grow in a balanced way and teaches them an understanding of their own self-acceptance and self-esteem!
Reviewed by DorothyL..05/07

More about Esther Kane..
Click Here for a video with Esther as she speaks about her latest book, 'Its not about the food'.
Womensselfesteem.com's book reviews of Esther Kane's other books...